Först vände programmerarna upp och ner på mjukvarubranschen genom att börja ge bort sitt arbete som fri källkod. Nu vänder de upp och ner på företagen genom att göra den gamla sortens chefer överflödiga.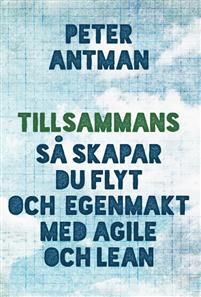 Programmering handlar om att generera kunskap. Och det sker bäst när man får arbeta direkt mot användarna och när man själv får styra sitt arbete. När man får makt över sitt liv på jobbet, kort sagt.
Hur organiserar man det bäst? Genom att jobba i små självorganiserande team. Tillsammans. Utan chef. Så river programmerarna de gamla företagspyramiderna.
I Tillsammans berättar Peter Antman historien om denna revolution inifrån. Under ett halvt decennium var han med att skapa en produktutvecklingsorganisation i världsklass genom att inspireras av metoder och principer som agile, scrum och lean.
Hur får team högt flyt i arbetet? Hur skapas grogrunden för team som styr sig själva? Hur kan utvecklingssamtalen läggas ner och de anställda ta ansvar för sin egen kompetensutveckling? Dessa och många andra frågor får svar i Tillsammans.
Peter Antman är programmerare och författare. I mitten av 1990-talet upptäckte han det fria operativsystemet Linux och lockades in i den gryende internetbranschen av gebort-kulturen runt fri mjukvara.
Sedan dess har han arbetat med företag och organisationer som Polopoly, Spotify, Dagens Nyheter, Hemnet, Expressen och Sveriges Radio.
Större delen av det senaste decenniet har han fokuserat på att bygga system som bygger system – det vill säga utveckla organisationer som är verkligt bra på att skapa mjukvara – i roller som utvecklare, arkitekt, CTO och utvecklingschef.
»Peter is a fantastic coach to work with, from the team level all the way to large org changes. He is able to both impact change himself, as well as to inspire and teach those around him.« Geoff van der Meer, Director of Engineering at Spotify

»Peter has a deep understanding of software development as a craft and what it takes to create a learning organization.«, Mattias Köhlmark, Development Director at DICE

»En av Sveriges främsta och mest erfarna personer inom agil utveckling«, Peter Frey, CIO Expressen.